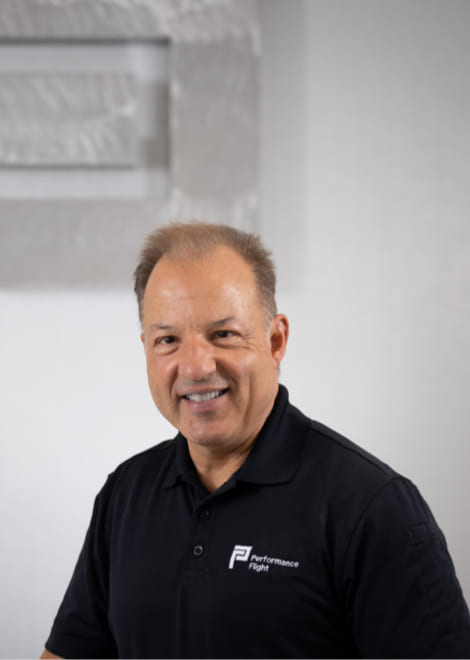 Chief Pilot
Nick has been instructing at Performance Flight since October 2008 and became the Chief Pilot in May 2010. In this role, he oversees the flight training program and played a key role in developing the course curriculum. As a flight instructor for more than 27 years, Nick is able to teach in a variety of single and multiengine aircraft. He is a Platinum CSIP, making him a Factory Authorized Cirrus Standardized Instructor Pilot and is qualified to teach all Cirrus SR20 and SR22 aircraft.
Aside from instructing, Nick is also an FAA Designated Pilot Examiner and is authorized to give the practical test for Private Pilot, Instrument Rating, Commercial Pilot, Flight Instructor, and Instrument Flight Instructor.
Flying and meteorology have been a passion for Nick since he was a little boy. At age 7, he would play with his collection of toy and model airplanes, building airports in the backyard. At the same time, Nick had developed a love and fascination of the weather and was awed by nor'easters, hurricanes, and thunderstorms. Following his passion, Nick went on to get a Bachelor of Science degree in Meteorology from Lyndon State College in Lyndonville, Vermont and at the age 21, was hired to be the morning on-air meteorologist for CNN in Atlanta, GA. By the end of 1982, Nick would earn his Private Pilot Certificate at the Cobb County Airport in Kennesaw, GA. In 1986, Nick left CNN and joined WNYW TV Fox 5 in New York City and became their Chief Meteorologist, a position that he currently still holds.
For many years he was heard giving weather forecasts every weekday morning on WLTW 106.7 Lite FM. He has been named "New York's Most Accurate Meteorologist" numerous times by The Daily News, The New York Post, and Newsday. Nick has also received numerous awards including the New York City Comptroller's award for outstanding community service. He is a member of the American Meteorological Society and holds the AMS Seal of Approval for excellence in television weathercasting. He became a member of the society's Board of Broadcast Meteorology and served as Chairman of the Board.
Given his love for flying, Nick wanted to become a better pilot and achieve higher goals. He continued his flight training obtaining his instrument rating in 1990 and not long after, a Commercial Certificate, followed by a multi-engine rating and ultimately an Airline Transport Pilot Certificate. Nick wanted to be able to share his love of flying with others which lead to him become a flight instructor. Another big part of his aviation life has been flying missions as a volunteer pilot for the last 25 years for Angel Flight Northeast. He currently serves as Chairman of their Board of Directors.
Over a period of 20 years, Nick has owned and flown several types of single and multi-engine aircraft and has accumulated thousands of flight hours flying across the country, into Canada, Mexico, and Central America. This has helped him develop real world scenarios for implementation into the flight school curriculum.
Nick resides in Westchester, NY and is married with 3 daughters.