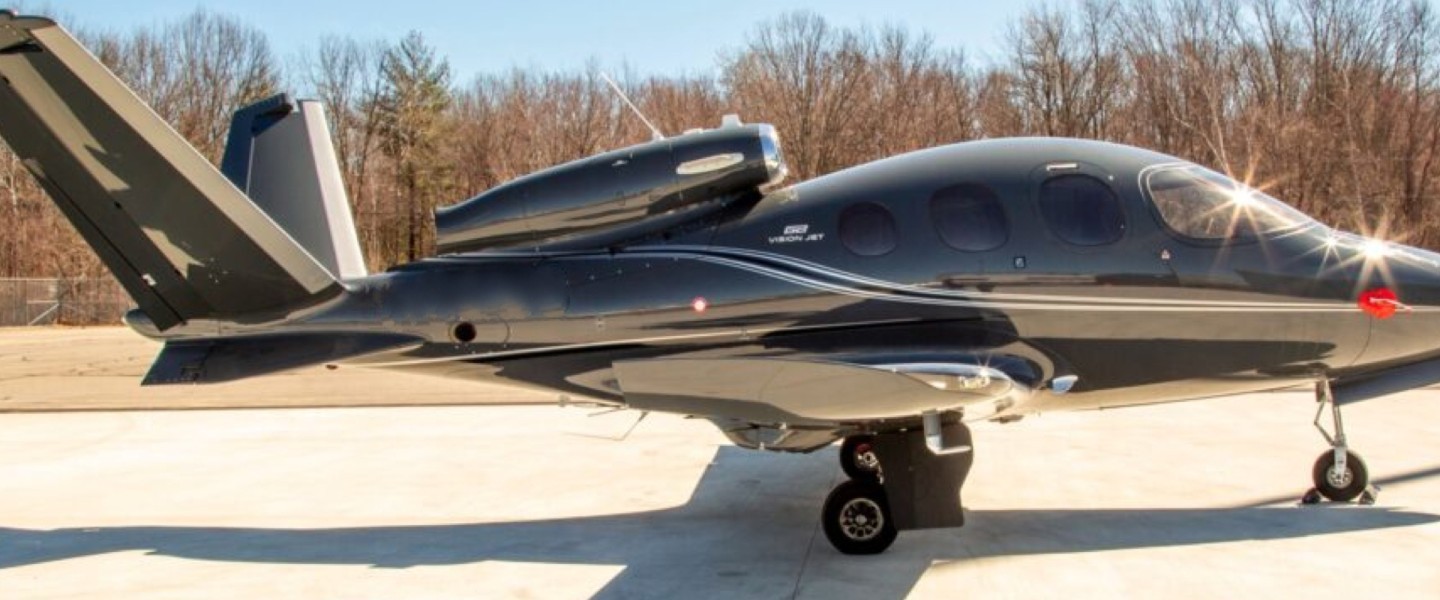 As the world's first single-engine Personal Jet, the SF50 shines in performance while being simple to fly and easy to own and operate.
The Vision Jet excels in the space of personal transportation where jet speed, jet comfort and jet convenience are all within reach.
Powered by a single FJ33-5A jet engine, producing 1,846 lbs of thrust. The Cirrus Vision Jet is capable of carrying 4 passengers with an NBAA IFR range of 950 nm and max cruise speed of 311 knots. The Vision Jet is equipped up front with the Garmin G3000 avionics suite, and for an added level of safety the Cirrus Airframe Parachute System.
| | |
| --- | --- |
| Max Cruise Speed | 311 ktas |
Rental Requirements
All renters must possess a valid SF50 Type Rating, proof of Annual Re-Current Training and the appropriate FAA Medical Certificate. All documents must be presented in order to reserve a plane. Non-owned renters' insurance is also required and can be purchased at the time of rental.
A thorough Ground and Flight Prep regimen is required by one of our qualified Jet Mentor Pilots
See Performance Flight for all other Policies and Procedures
| | |
| --- | --- |
| Flight Instructor | $1,700/day |
The planes you will be renting are owned by individual clients who expect our customers to treat each plane with the same respect and care as if it were their own. Planes will be clean and ready for you in the best condition possible. Any variances should be noted on the "Dispatch Sheet" prior to taking off. When you return, the pilot will conduct a post flight inspection of the plane ensuring that it is returned in the condition it left. Should you experience any problems with the plane, you are required to notify Performance Flight immediately. Emergency contact information will be provided at the time of rental.
All planes will be fueled according to your needs and oil topped. The rates include fuel and oil which is known as a "wet rental" A fuel card will be placed in the "Key Book" for your use. If fuel is needed at another airport, it should be purchased on a Performance Flight provided and aircraft specific fuel card.
Pilot Renters are responsible for their own fees, including landing, handling, and or tie down /hangar fees at all airports other than at home base - HPN.
Performance Flight does not impose any "Daily Minimums" on its Renters. Multi -Day rentals are available based on aircraft availability.