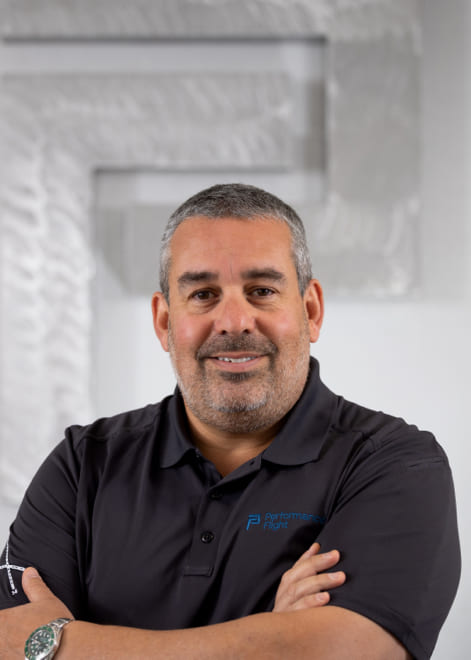 Founder & CEO
Lewis Liebert founded Performance flight in 2007, although he was not yet a pilot, nor did he have any experience in aviation, Lewis had a desire to learn and had a vision to create the highest quality flight program in the world. He wanted the best and safest airplanes the market could offer, which he not only accomplished, but grew his vision from a high-quality training program facility, into the best private aviation company, in the United States.
Originally formed as a Cirrus Training Center, Performance Flight's primary purpose was to offer flight training, with Lewis as its first student. After earning his Private Pilot License and Instrument Rating, Lewis worked with his team to mastermind a proprietary training syllabus designed to improve the quality of training, safety, efficiency, and the overall client experience.
Lewis grew Performance Flight quickly; Within two years, they were managing 25 aircraft. The business evolved, developing new management programs for larger aircraft, and Lewis identified a niche market for managing planes that are typically owner flown. He established structured programs for the aircraft and formed a team of aviation professionals to focus on the need of planes being operated under FAA Part 91.
Lewis then launched a charter division offering brokerage services. He pioneered a new concept called T.E.A.M. (Transparency, Empowerment, Access, Managed safety & quality), to offer a competitive solution to fractional ownership, which once again, placed Lewis ahead of the competition.
In 2012, Lewis continued his expansion and formed a maintenance division. He's grown this department to offer 24/7 support for both piston aircraft and large jets, with mobile capabilities covering the Southeast and Northeast regions of the United States.
Quickly, Lewis also earned a reputation as an aircraft acquisition expert, helping clients find their way into the right airplane to fit their needs. A trained negotiator, Lewis is known for creating winning deal structures and unique solutions for his clients. He's also become an authority in managing the inspection and delivery processes by firmly advocating for his clients and has managed over 200 aircraft transactions with companies such as Cirrus Aircraft, Embraer, Gulfstream, and Textron Aviation.
Furthering his passion for the flight training market, in 2017, Lewis conceived a new method for providing ground instruction to pilot candidates and engineered what Performance Flight now calls the NextGen training platform. By creating a content library and utilizing technology, Performance Flight now offers the most powerful and efficient learning program available.
With the goal of continued expansion, Lewis purchased Custom Jet Charters in 2020, thereby adding a West Palm Beach office, larger jets, and a Part 135 certificate to his portfolio. In the process he formed ADD Investment Strategies, which became the parent company to both Performance Flight, and Custom Jet Charters. Together, the business operates over 40 aircraft around the United States.
Prior to his aviation career, Lewis was Vice President & General Manager of Television USA and responsible for developing the Forbes Enterprise Awards. Along with Forbes, he secured sponsorships with Verizon, FedEx, CBS, Staples, and American Express, as well as produced the award program that was televised and held at Jazz at Lincoln Center. Prior to that, he was Chief Operating Officer of Mary Ann Liebert, Inc, a family-owned publishing company with over 100 titles in science, technology, and medicine. He also founded RINK Magazine and the North American RINK Conference & Expo, both of which he eventually sold to USA Hockey.
Lewis has served on several boards of directors including: The Grove School, New Rochelle Police Foundation, Mamaroneck Emergency Medical Services, Westport Police Foundation, Serving The American Rinks, and the Westchester IT Cluster.
He earned his Bachelor of Science from Rutgers University in 1996 and completed executive education programs in negotiating from Harvard, and entrepreneurship from Wharton.
In his spare time, Lewis is an avid boater and accomplished race car driver, earning a club championship at the gentleman's level and competing professionally in the VLN series (Veranstaltergemeinschaft Langstreckenpokal Nürburgring) in Germany. He lives with his wife and two sons in Westport, CT and Miami Beach, FL.