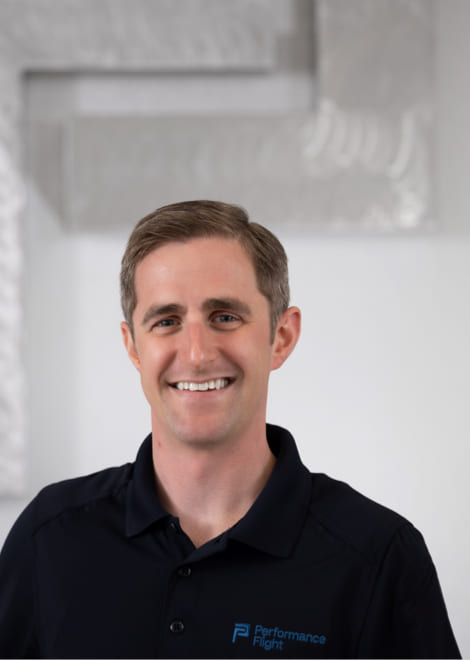 Vice President of Operations
As Vice President of Operations for Performance Flight, Chris has the opportunity to continue flight instructing as one of Performance Flight's in-house Cirrus Standardized Instructor Pilots (CSIP). He also holds an Airline Transport Pilot (ATP) certificate with multiple jet type-ratings, which provides him with yet another opportunity to operate jet aircraft on both the Part 91 & Part 135 side of Performance Flight's operation.
Chris was born and raised on Long Island, not too far from where Charles Lindbergh departed for his historic transatlantic flight. Through the support of the Long Island public school system, he was fortunate enough to get a nice aviation "jump start" and graduated high school with his Private Pilot Certificate and Instrument Rating. This was made possible through a program called Eastern Suffolk BOCES, which sponsored a vocational school named the Suffolk Aviation Academy. The academy was an entirely cost-free training program for qualifying public school students who wanted to become pilots or aircraft mechanics.
After graduating high school, Chris remained immersed in aviation, working as an aircraft lineman and detailer, so that he could fund his flight hours and training. In 2004, Chris earned his first Flight Instructor rating in Denver, CO. Realizing a true passion for sharing aviation with others, by his 19th birthday, Chris had completed his additional instructor ratings to include CFII, MEI, AGI, & IGI. He then quickly became involved as an instructor at the Suffolk Aviation Academy, which enabled him to earn a "Gold Seal" on his CFI, prior to his first CFI renewal period. To date, Chris has been happily instructing for over 17 years and doesn't ever see himself stopping!
Chris is an alumnus of Embry Riddle Aeronautical University, graduating with honors and a Master of Business Administration degree (Aviation), a Bachelor of Science (Professional Aeronautics), and an Associates in Science (Professional Aeronautics). To further his aviation managerial experience, Chris is also a graduate of the National Business Aviation Association (NBAA) for the Certified Aircraft Manager (CAM) program and currently holds his CAM Certification.
In 2008, Chris left aviation full time (although remained employed part-time as a CFI) and became a Paramedic in New York & Connecticut. During his career in EMS, he advanced his training, education, and experience to include specialties in Critical Care Transport, Pediatric and Neonatal Intensive Care, as well as tactical medicine. In 2017, Chris returned to aviation full time, with Performance Flight.
When Chris isn't working, he enjoys spending time with his wife Mallory and their two rescue dogs, Oreo and Dolce.